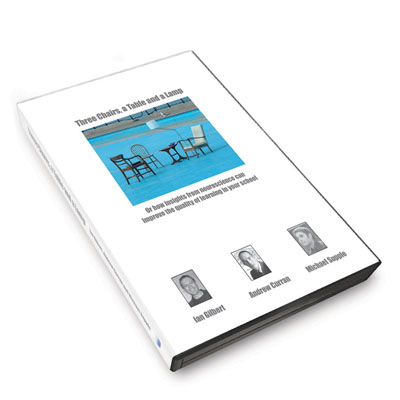 Three Chairs, a Table and a Lamp
Ian Gilbert, Andrew Curran and Michael Supple
A one-of-a-kind DVD to improve behaviour and learning in your classroom.
You won't have seen a DVD like this one before! It is the curious result of what happens when you put together a paediatric neurologist, an educational expert, an inquisitive teacher and a professional film-maker for one day to explore a variety of common classroom behaviours, why they happen from a neuroscientific perspective and what you can do about it. From chatty girls and fidgety boys to the role of the teacher and the neurobiology of motivation, this unique film is full of fascinating insights and dozens of practical strategies that are guaranteed to make a difference in the classroom. Shot entirely on location in North Wales for no reason whatsoever, Three Chairs has been used by hundreds of schools as a tool for understanding and improving behaviour and learning.
To enquire about booking this author at speaking events...
DVD Pal 978-1-84590-048-9 £19.99
---