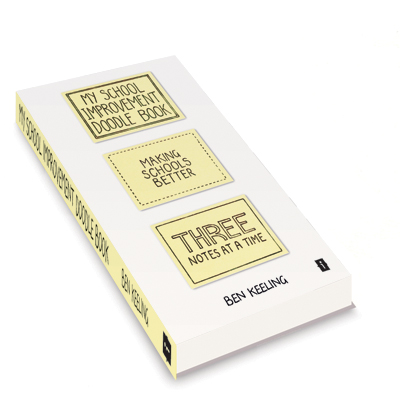 My School Improvement Doodle Book
The first-ever picture book to make your school a better place – three sticky note doodles at a time.
If a picture is worth a thousand words, imagine the power of three pictures at a time. Which is exactly what former graphic designer turned teacher and leadership team member Ben Keeling has done. As thought provoking as it is simple, this book combines an expert knowledge of schools and learning, an enviable talent for graphic design and a keen sense of irony. First spotted by Independent Thinking founder Ian Gilbert following a Twitter exchange that stretched between Chile, the UK and Indonesia, this ground-breaking book uses three simple 'doodles' per page, each on a separate sticky note, to highlight key issues. Simple yet contagious, this book re-writes the rules when it comes to the literature of school improvement and should be on the desk of every school leader and teacher.
Visit the My School Improvement Doodle Book website: http://edu-sketches.com/
110 x 200mm 120 pages Paperback • E-Book 978-1-78135-051-5 £9.99
---